The Passion Flower Frangrance Oil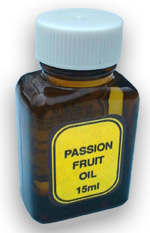 This delifghtful highly concentrated passion flower fragrant oil can be used in a variety of ways. For instance a few drops aded to your bath water will give it a beautiful aroma, or add a few drops to a natural oil, such as almond oil, to create your own massage oil.
When vacumning try putting a couple of drops of the passion flower oil into the vacumn cleaner bag and fragrance your room as you clean. Also of course it can be used in conjunction with an oil burner or vapourising ring to provide an excellent room fragrance.
Please note this passion flower oil is very concentrated and must not be used on your skin unless diluted with a mild oil and should not be allowed to come into contact with polished or painted surfaces or any plastic type surface.
To purchase this oil please visit our shop