The Passion Flower (Passiflora)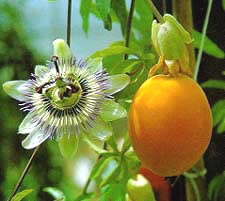 A passion flower planted in the garden or conservatory is an easy to grow flower, which looks...... absolutely stunning.
We supply passion flower seeds from the UK national collection so you can be assured of the highest quality seeds, spend time exploring our website, savouring the wonderful colour and complexity of these truly exciting plants. Passion flower seeds, the renowned book - Passion Flowers by John Vanderplank, fragrant oils and printed notelets are all available, they make perfect gifts or presents everyone will enjoy.
The passion flowers displayed on this site are grown from our quality flower seeds.
If you have a PASSION for Passiflora you have come to the right place, or, if this is your first sight of these wonderful flowers then we can assure you it will not be your last!
We can provide information and advice to enthusiasts and professional bodies alike, so if you have any questions about a passion flower, seeds or any other enquiry or comment then simply contact us by using this form.